Looking for a blank birth chart to fill in yourself? The internet is brimming with options, both free and paid, in all sorts of styles, colors, and shapes.
In this post, I'm excited to share with you 5 blank natal charts that you can download right away. I've tried to include a variety of natal chart templates to make it super easy for you to find the perfect one for your needs.
So, let's dive in and see what I've found!
Free Printable Birth Charts
The Four Elements Birth Chart
These Four Elements Birth Charts are simply stunning. If you're on the hunt for a blank natal chart that is as beautiful as it is functional, then these designs by Rebecca Wilson from 1987 are my top picks.
By the way, if you love vintage style, make sure to check out these 7 must-have vintage astrology printables.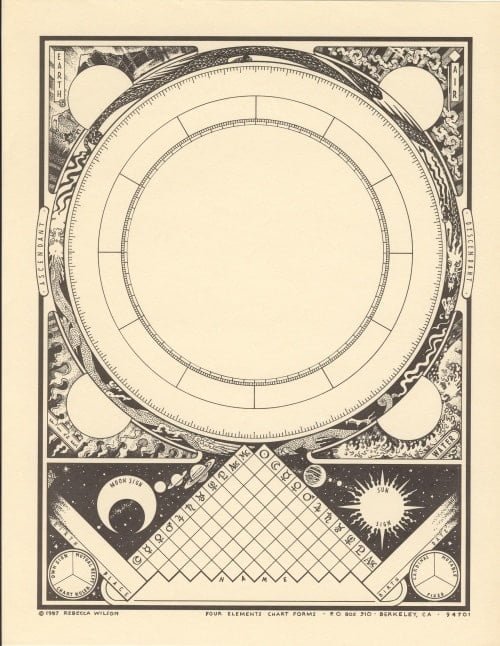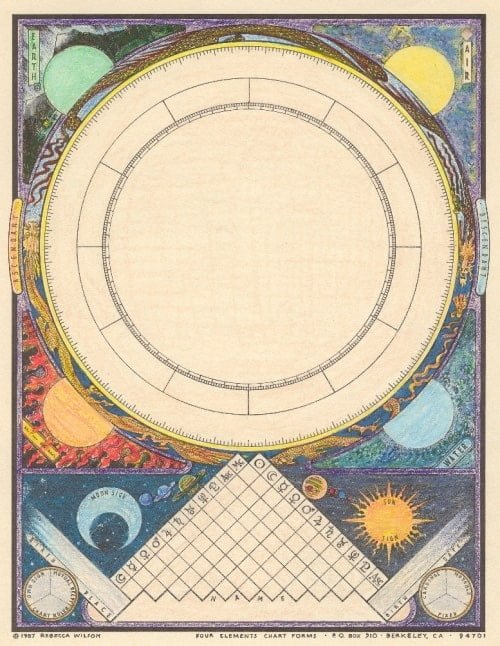 Key Features:
Two styles: Two artistic styles are included – vintage sepia and pencil color.
Resolution: While the pencil-colored chart is designed at a smaller resolution (ideal for smaller prints like a planner), the vintage sepia version boasts a higher resolution, making it perfect for Letter or A4 sized prints.
Precision: Features a Zodiac wheel complete with degree lines.
Details: The chart includes additional fields for the four elements, modes, chart ruler, mutual receptions, and own sign.
Download them from Auntie Moon's download page:
Free Printable Birth Chart Template
I've also created a design of my own. If you're looking for a simple, easy-to-print blank birth chart template, this might be the one for you!
It's quite straightforward, especially for those just starting out with astrology. Plus, it includes a handy table for aspects and another one to tally up points for the four astrological elements and three modes. And oh, the dashed circles? They're just there to add a touch of style, those aren't graduation points!
P.S. Just a heads up – I'm working on even more designs! If you're keen on exploring more options, bookmark or follow me on Twitter to get updates. Exciting stuff coming up! 😀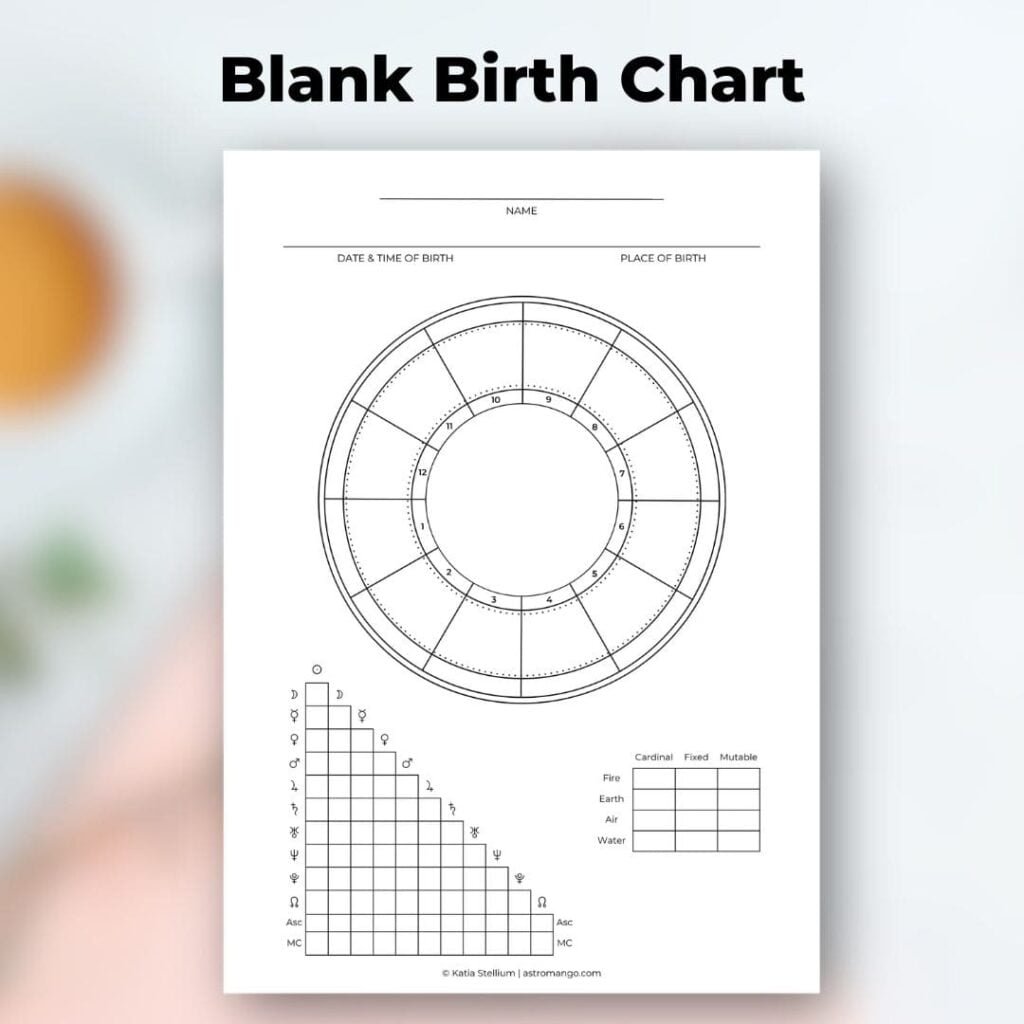 Paid Printable Birth Charts
Vintage-style Printable Natal Chart
If you're like me and have a soft spot for vintage designs, then you'll adore this blank natal chart. Alicia Yamashita of OneStarWisdom has designed this beautiful vintage-inspired chart, and the best part? It's available for just $1.50 in her Etsy shop. It's a little gem worth checking out if you love this style!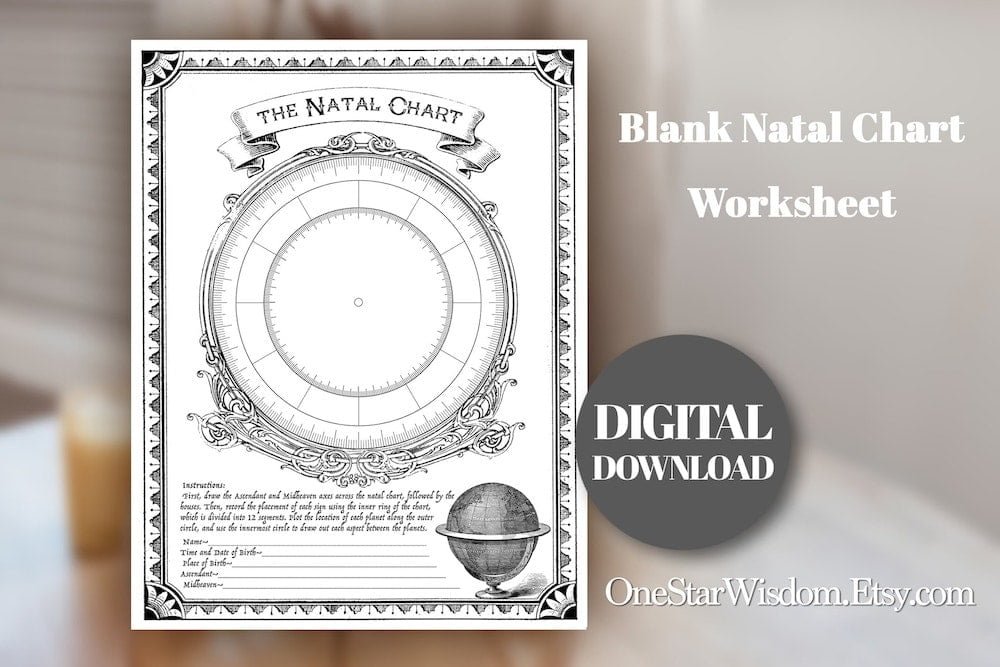 Key Features:
Vintage style: This beautiful natal chart is ideal for your astrology study binder, grimoire, or book of shadows. It also serves well as a poster.
Size: Fits 8.5" x 11" standard Letter-size paper.
Precision: Includes a Zodiac wheel with gradations for degrees and a separate wheel with markings for charting aspects.
Blank Birth Chart with Witchy Vibes
Looking for something a bit mystical for your grimoire or book of shadows? I stumbled upon this enchanting, witchy-inspired blank astrology wheel on Etsy, designed by the talented Jessica Chavanick from ThornAndSage. It comes with an extra page just for jotting down your birth chart details!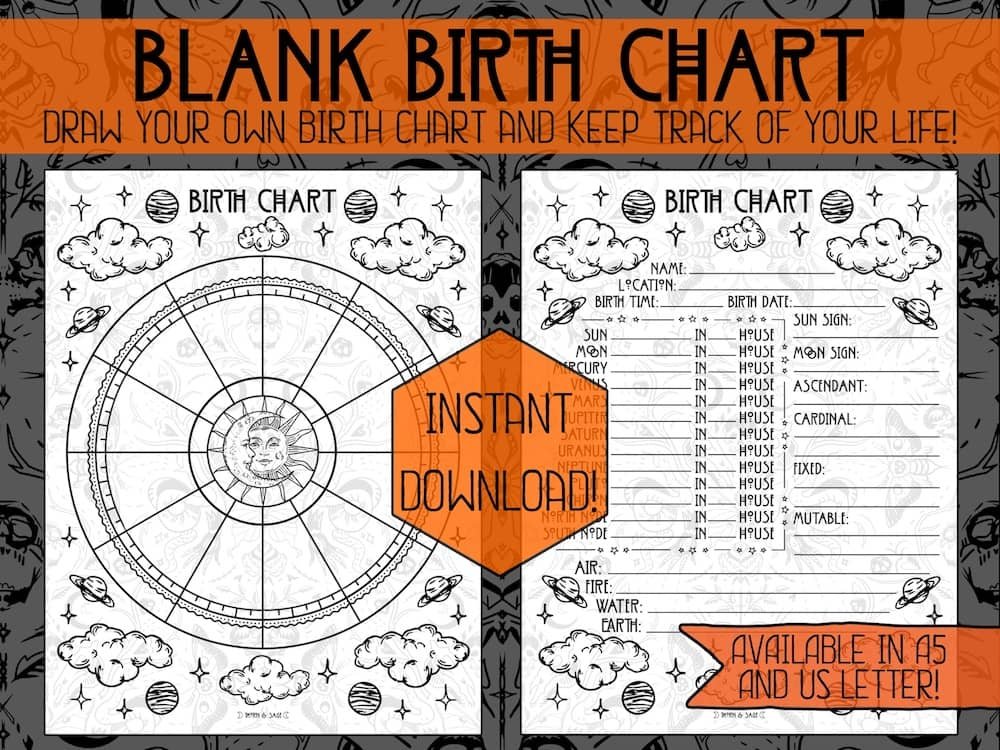 Key Features:
Magical Design: Perfect for those who love the mysterious and magical, this natal chart template will fit right into your grimoire or book of shadows.
Sizes to Choose From: Available in both A5 and US Letter print sizes.
Clarity: Features a Zodiac wheel designed with clear and simple gradations.
Helpful Resources:
Here are some resources that can help you calculate and understand your birth chart.