Astrology has a rich history. Its roots reach back over 2,000 years to the ancient Babylonians. Perhaps that's why astrological themes pair so naturally with a vintage aesthetic.
Personally, I've always had a soft spot for the vintage look. There's an undeniable charm in blending old-style designs with astrological themes. Vintage astrology printables evoke memories of aged books and those timeless colors that seem as if they've witnessed centuries.
For this article, I spent a lot of time just browsing through astrology-themed vintage printables on Pinterest, Etsy and Google. Many truly beautiful printables didn't even make it to this list, but they might make it to another one in the future…! Without further ado, here's my list of seven beautiful vintage-style astrology printables (including a few designed by yours truly).
Vintage Blank Astrology Chart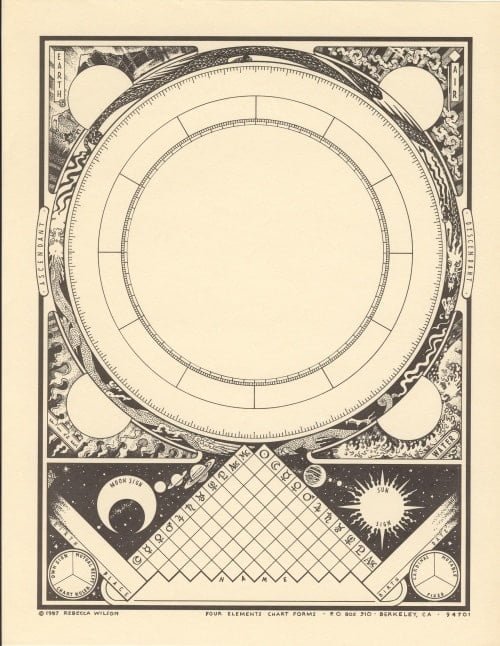 These two blank astrology charts are a must-have if you are looking for a vintage astrology printables. Their beauty and functionality are unmatched, and I find myself recommending them time and again 😆.
Designed by Rebecca Wilson in 1987, they truly capture the vintage flair. Best of all, these birth charts are available for free on the Auntie Moon website.
Interested in more designs? Browse my recently compiled collection of blank natal chart templates.
Vintage-style Astrology Cheat Sheet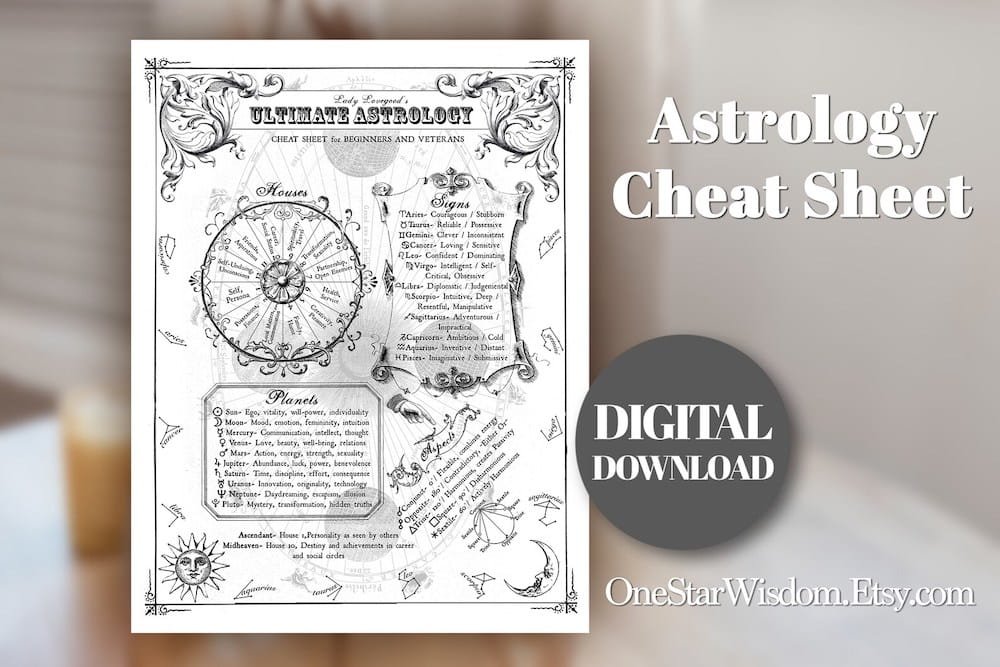 I've already mentioned printables designed by Alicia Yamashita from OneStarWisdom, and for good reason – they're simply stunning!
This astrology cheat sheet covers all the basics: zodiac signs, planets, astrology houses, and major aspects. It's perfect for your astrology binder, book of shadows, or grimoire. And if you're inclined, it looks lovely framed and hung on the wall.
For more details about this printable, visit Alicia's Etsy shop.
By the way, if you're looking for a comprehensive astrology cheat sheet that covers all the basics, consider my own design. It is simple design but is packed with information. In fact, it's been a bestseller at my Etsy shop, DigitalHygge, for three consecutive years.
Astrology Symbols Printable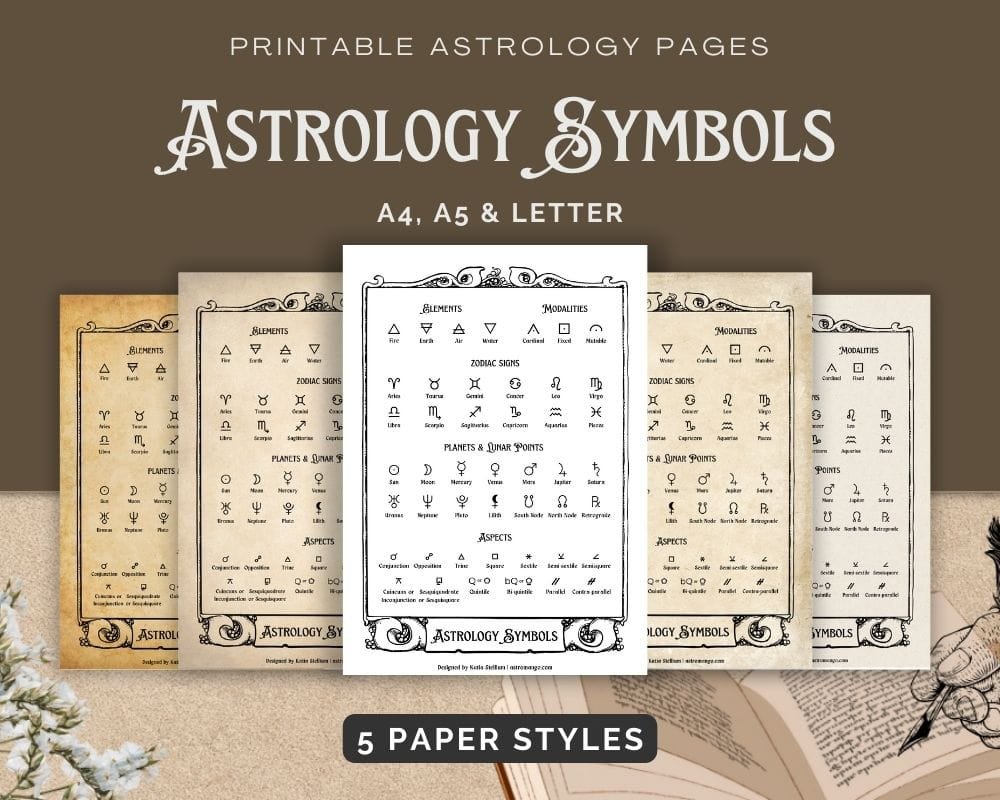 This printable Astrology Symbols sheet is my own design. It features 46 essential astrology glyphs including: astrology elements and modalities, zodiac sign symbols, planet symbols as well as major & minor aspects.
You have options with this design: choose from five paper styles, including a vintage look or a simple white to conserve ink. Plus, there's a transparent PNG version, perfect for printing on craft or specialty paper.
If you're trying to learn or refresh your memory on astrology signs and symbols, this cheat sheet is just right. And for a fun, interactive way to learn, check out the astrology symbol quiz over on AstroMango!
Get this Astrology Symbols Printable in my Etsy shop.
Moon Calendar 2024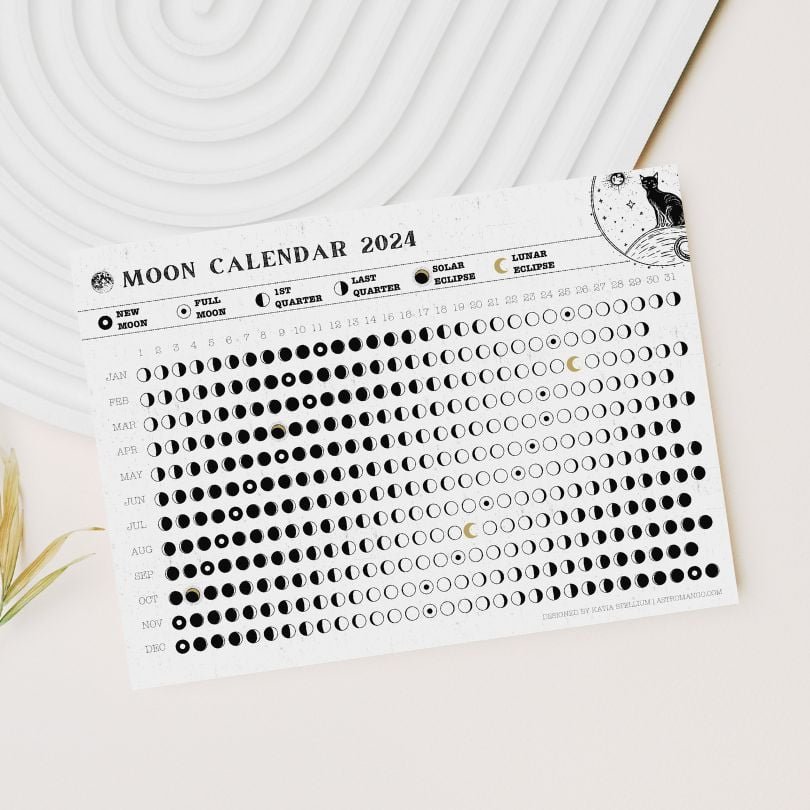 This 2024 Moon Phase Calendar is also my own design. It is a one-page, year-at-a-glance calendar that makes tracking lunar phases and eclipses a breeze. This is a printer-friendly design available in three sizes – A4, A5, and the standard US Letter.
More about this moon calendar in my Etsy shop.
On a side note, don't miss out on my free 2023 monthly calendar/planner with moon phases, and the free printable astrology planner for 2023. These high-quality printables were once exclusive to my Etsy store, but now I'm excited to share them with you for free!
Moon Phases Guide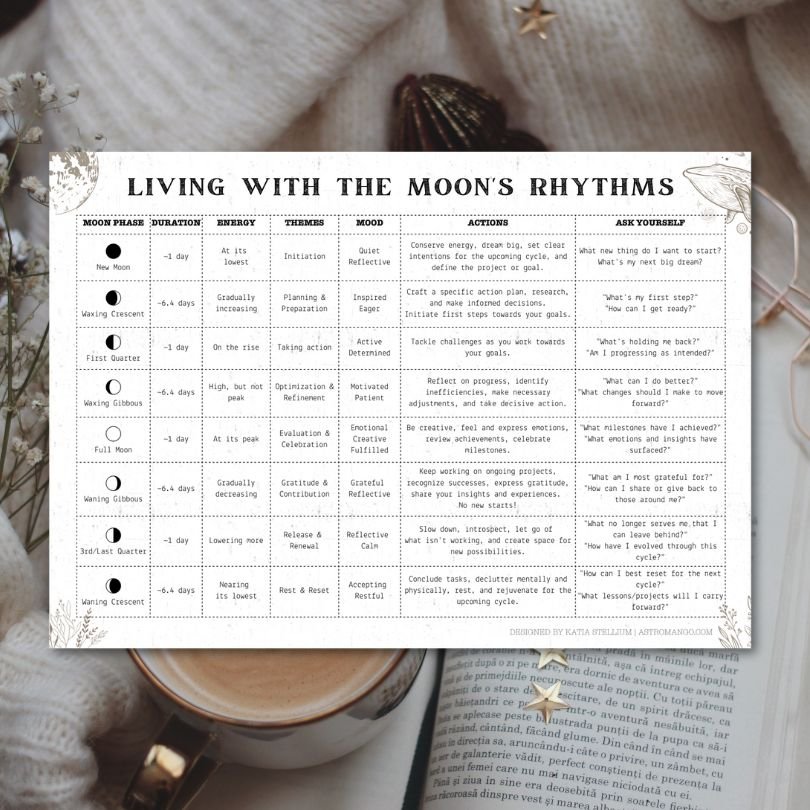 If the above mentioned Moon Calendar caught your eye, you'll likely find useful this Moon Phases Guide. It is designed in the same vintage style.
This cheat sheet details each of the eight moon phases, helping you understand the unique energies of each phase and align your activities with the moon's cycle.
The printable is available in three sizes: A4, Letter, and A5, making it a perfect fit for most planners and bullet journals.
More about this Moon Phases Guide in my Etsy shop.
Beginners Grimoire Printable Pages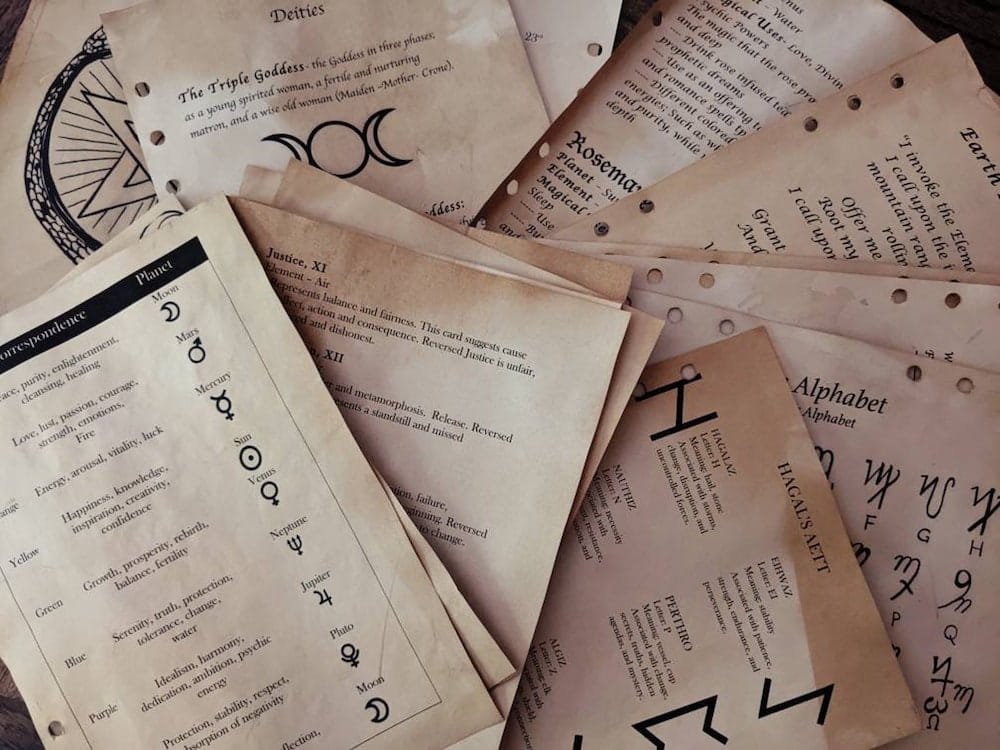 This is a generous bundle with 76 printable grimoire pages that sells for a mere $1.88. No wonder this is a bestseller on Etsy. These pages are designed by TheElementalKat. The pages are filled with reference information on following topics: tarot, runes, zodiac, spells, crystals, moon phases and many more.
More details about this product on TheElementalKat's Etsy shop.
Astrology Book of Shadows Pages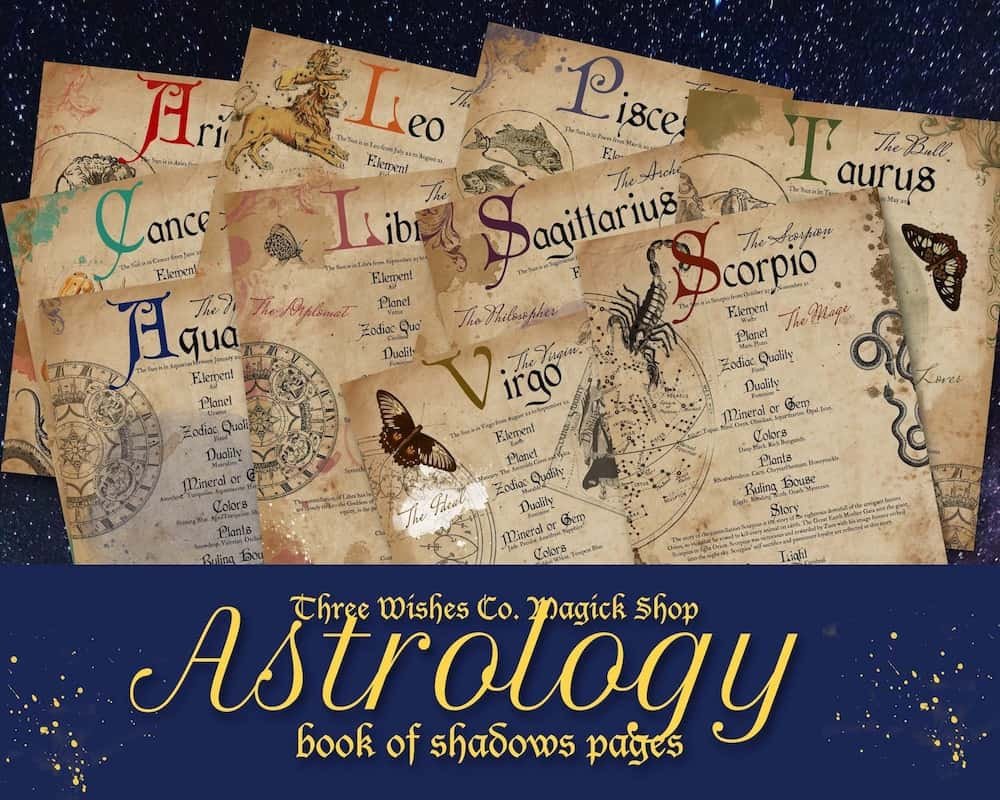 These printable astrology pages are perfect for your studies or adding to your grimoire. There are in total 12 pages: one per zodiac sign. Each of the pages has the following details about the sign: archetype, element, planet, quality, duality, crystals, colors, plants, ruling house, light and shadow. These pages are created by ThreewishescoMagick. You can get them in her Etsy shop for $3.40.
Helpful Resources:
Here are some resources that can help you calculate and understand your birth chart.