Zodiac symbols, also known as zodiac glyphs, are used to visually represent the 12 signs of the zodiac. These symbols are often used in birth charts or written materials related to astrology.
In this post you will find all the 12 symbols correlating to each zodiac sign, as well as zodiac emojis, copy/paste zodiac symbols as well as a few useful links where you can practice your knowledge of the zodiac glyphs.
Table of Contents
All Zodiac Sign Symbols
There are 12 zodiac signs and each has one corresponding symbol/glyph.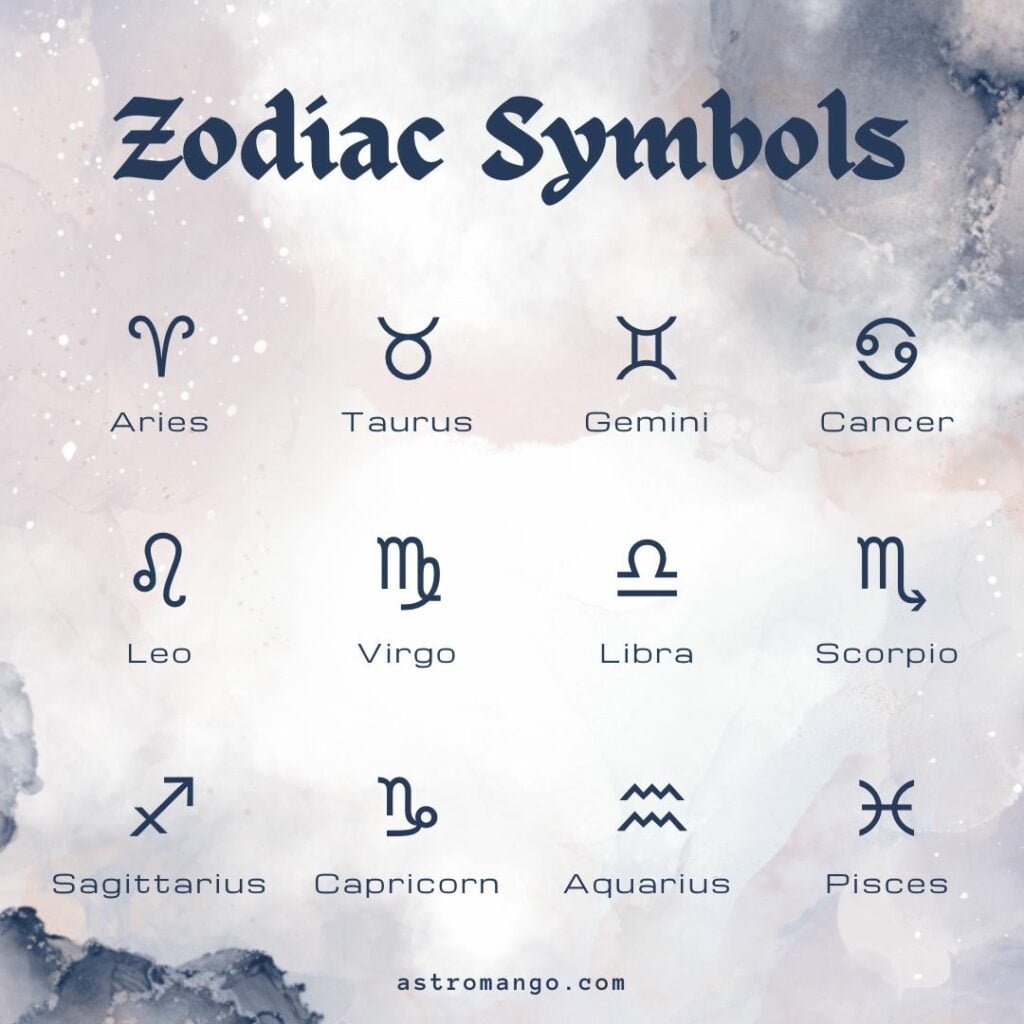 Emoji Zodiac Signs
Zodiac emojis are small, colorful symbols, often shaped as purple squares or rainbow-cold circles (depending on the app/browser you use) with a zodiac sign inside, that represent the twelve signs of the zodiac. They're often used online, especially in social media and messaging.
Why use zodiac emojis?
They offer a unique way to save space, as using the symbols instead of writing out the full names of the signs saves characters. Additionally, they add flair to your text, providing a colorful and personal touch that can make your messages or profiles more engaging and expressive.
For example, I use the zodiac emojis in my social media profiles to tell people about my Big Three (Rising sign, Sun sign, Moon sign): ♌️♈️♈️. It saves quite a bit of characters when you use the zodiac symbols instead of writing their full names in letters.
Here are the twelve zodiac emojis:
♈️ – Aries
♉️ – Taurus
♊️ – Gemini
♋️ – Cancer
♌️ – Leo
♍️ – Virgo
♎️ – Libra
♏️ – Scorpio
♐️ – Sagittarius
♑️ – Capricorn
♒️ – Aquarius
♓️ – Pisces
These emojis might look different depending on the app or browser you use. Here's how they can look like: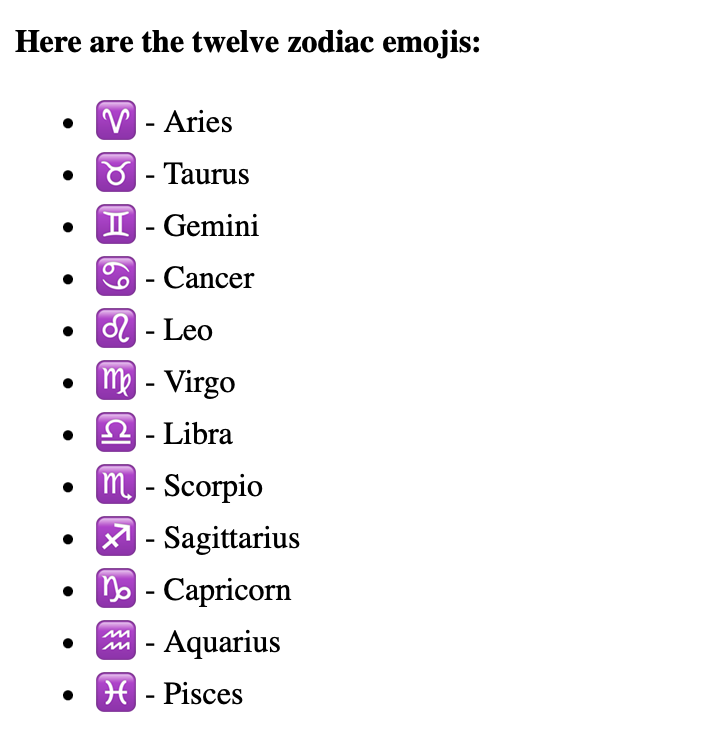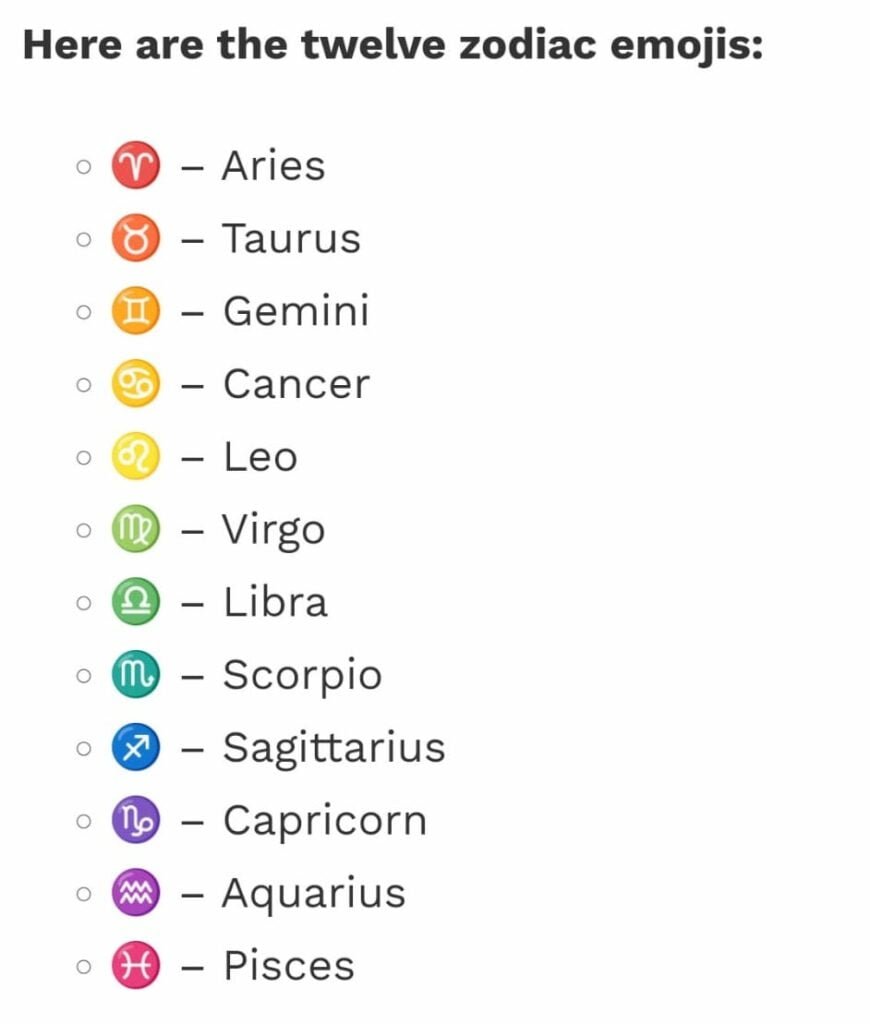 Zodiac Keyboard Symbols
Zodiac keyboard symbols are special characters that look like a part of the font and represent the twelve astrological signs of the zodiac. Unlike emojis, which are colorful and graphical, these symbols blend seamlessly with regular text. You can type them using a keyboard or input them using specific Unicode characters or character codes. The best part? You can easily copy and paste them into your text, just like regular letters or numbers.
These zodiac symbols were approved as part of Unicode 1.1 back in 1993, and although they were added to Emoji 1.0 in 1995, they remain distinct from emojis. They've been an integral part of text-based communication for quite some time now, and continue to be a popular way to represent zodiac signs in a more subtle and text-friendly manner.
Here are the twelve zodiac symbols and their corresponding Unicode characters:
♈︎ – Aries (U+2648)
♉︎ – Taurus (U+2649)
♊︎ – Gemini (U+264A)
♋︎ – Cancer (U+264B)
♌︎ – Leo (U+264C)
♍︎ – Virgo (U+264D)
♎︎ – Libra (U+264E)
♏︎ – Scorpio (U+264F)
♐︎ – Sagittarius (U+2650)
♑︎ – Capricorn (U+2651)
♒︎ – Aquarius (U+2652)
♓︎ – Pisces (U+2653)
In case you see the emojis instead of the symbols, this is how they are supposed to look like. Below I will explain why you might see emojis instead of these symbols (see the troubleshooting part of the post).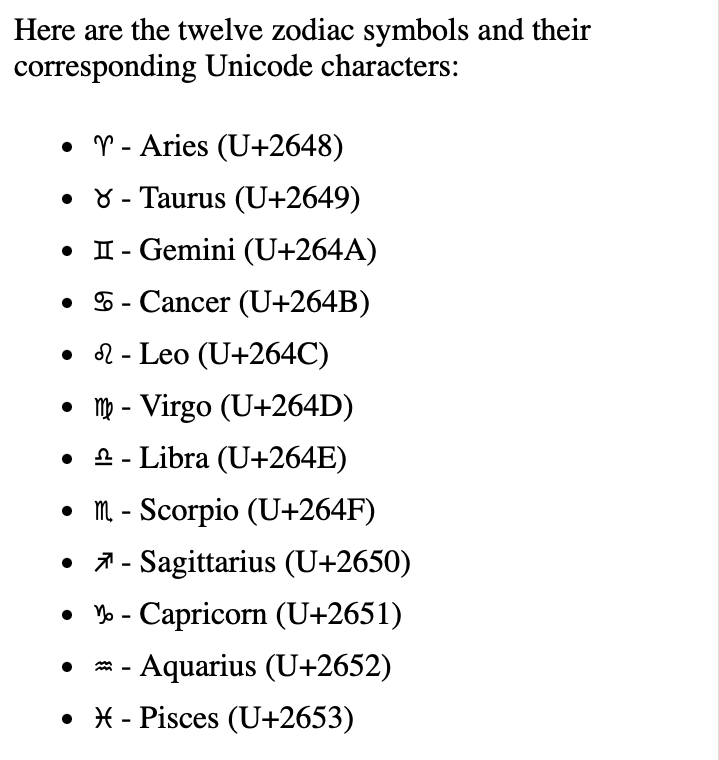 Copy/Paste Zodiac Sign Keyboard Symbols
Click in the box and press Ctrl+C to copy, or right-click and choose 'Copy'
Why does the zodiac symbol I copied and pasted turn into a colorful emoji?
When you copy and paste a zodiac symbol, it might appear as an emoji instead of the traditional symbol. This happens because the computer code for the symbol is the same for both the symbol and the emoji. Different programs, like Word, might choose to display it as a colorful emoji. It depends on the system, application, or even the font being used, and there's not always a way to control which version is shown.
Links and Resources
If you're just starting to learn about astrology and want some fun ways to remember the zodiac symbols, try these quizzes and games.
For more fun ways to learn astrology, check out the list of All Astrology Activities, Puzzles, Games & Worksheets published on the website.
If you're learning astrology, check out my Astrology Cheat Sheet. This concise, 7-page printable guide covers all the essential information, making it a handy quick reference. You can find it in my Etsy shop for only 6 dollars.
I hope you found what you were looking for. Let me know in the comments below if you have any questions 🙂